MR. ROTMAN RECEIVES HONORARY DOCTORATE DEGREE ~
On Friday, May 6, 2016, Mr. Rotman was awarded an Honorary Doctor of Fine Arts Degree at the Commencement Ceremony of The Master's University in Santa Clarita, California where Dr. John MacArthur is president.
In October, 2015  Dr. Lee Duncan, the Vice President of Academic Affairs, notified him that the Board of Directors and Dr. MacArthur had voted unanimously to grant this degree.
In Dr. Duncan's letter to Mr. Rotman he wrote:
The Board was impressed with your commitment to Christ, your unwavering love for Scripture, and your willingness to use your musical gift for the glory of God and spread of the Gospel.  It will be an honor to be able to award this degree to you, and we look forward to having your family with us to celebrate this special moment.
On behalf of Dr. John MacArthur, the Board, the faculty, and administration, we congratulate you and pray for God's richest blessing on your continuing ministry around the world.
Mr. Rotman is the only recipient of an Honorary Doctorate of Fine Arts that The Master's University has awarded in its history.
Over the years The Master's University has invited Mr. Rotman to its campus to perform, teach, and give master classes.  This recognition means a great deal to him coming from Dr. MacArthur and The Master's University where the integrity of living and serving Christ is of the highest priority.
Mr. and Mrs. Rotman's three children from Washington, D.C., Houston, and Phoenix with their spouses and their three grandchildren came for the weekend events.  Mr. Rotman performed at the concert presented by the music department on Thursday evening.  A reception in his honor followed the concert
At the Commencement Ceremony Dr. MacArthur welcomed him to the platform to confer the degree.  The entire Rotman family was invited to stand before the platform to witness this event.
Mr. Rotman realizes that he received this recognition because of the thousands of people who have organized concerts, and prayed, supported, housed and fed him over the last 40 years.  He feels that they are all part of this recognition.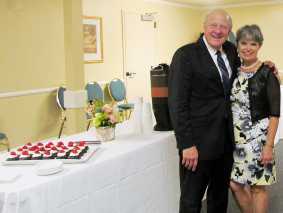 Reception in honor of Sam and Deborah Rotman
THE MASTER'S UNIVERSITY
EIGHTY-NINTH ANNUAL
COMMENCEMENT SERVICE
MAY 6, 2016
SANTA CLARITA, CALIFORNIA
DOCTOR OF FINE ARTS
HONORIS CAUSA

SAM ROTMAN
Sam Rotman is a first generation American of Eastern European Jewish descent who was introduced to classical music through his mother.  Having attended concerts from a very young age, he began to learn piano at the age of nine and at age eleven decided he wanted to become a concert pianist.  Mr. Rotman was the winner of a piano competition at the age of sixteen and made his debut with the San Antonio Symphony Orchestra before an audience of 6,000.  Subsequently, the Baldwin Piano Keynote magazine wrote, "Sam Rotman is a pianist with abundant potential."
The following year he was accepted at The Juilliard School in New York City.  On his first day of class he made a commitment to himself to practice ten hours each day, a commitment that he fulfilled and which culminated in him receiving his Bachelor and Master of Music degrees from The Juilliard School
He has been among the winners of five piano competitions both in the United States and Europe.  Most notably, he was the Laureate Winner at the 4thInternational Beethoven competition in Vienna, Austria.  Mr. Rotman specializes in the works of Beethoven.
To date, he has performed more than 2800 concerts in 60 countries.  This has included 20 concert tours of Europe as well as performances in Africa, Asia, Australia, New Zealand India, Israel, and North, Central, and South America.
Music may be a central part of Mr. Rotman's life, but he regards his salvation through Jesus Christ as most important.  As a student at Juilliard, he decided to read the New Testament. Having been raised as a very religious Jew, he was overwhelmed by meeting Jesus in the New Testament, and on May 21, 1971, he became a new creature in Christ.  Since that day, Mr. Rotman has sought to live a life that honors Jesus Christ, and to use the gift of music to serve Him.
While performing concerts of classical music around the world Mr. Rotman has shared his personal testimony with thousands of people.  He has realized that it is Christ who gave him the ears to hear the music, the fingers to play the music, the mind to learn the music.  This is reflected in his life verse, Psalm 115:1 "Not unto us, not unto us, but to God give all the glory."  
He has served the Lord in performing concerts in partnership with over a hundred mission organizations, Christian ministries, and national churches in numerous countries.
After forty-four years of ministry Mr. Rotman's singular goal has been to honor the Lord with a life that is true to his testimony and to serve Him with the highest possible artistic standards, offering his best to Christ—a spiritual life and an musical life to the One who is Life. Continuing to perform a hundred concerts a year, Jesus Christ has never missed one of Mr. Rotman's performances.